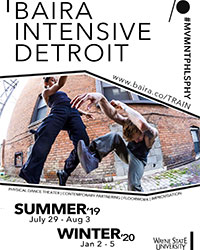 BAIRA Summer Intensive Detroit
When
Occurs on Monday July 29 2019
Approximate running time: 2 hours
Venue
Production Notes
×
BAIRA Summer Dance Intensive
Monday July 29th-August 3rd, 2019 Approximately 7 Hours per day
VENUE
Allesee Dance Theatre 4841 Cass Ave 3rd Floor Detroit, MI 48201
BAIRA Intensive Detroit from BAIRA | MVMNT PHLOSPHY on Vimeo.
An in-depth practice with BAIRA | MVMNT PHLOSPHY reflex/response methods, contemporary partnering and performance studies. Using different physical tools and games, we will challenge our creative movement instincts; refining our reflexes and becoming more confident in our moving bodies. We will throw, catch, tumble and fly together in a vigorous partnering technique that explores trust, vulnerability and responsibility with the weight we give and receive. This intensive will test our comfortability with the cycle of connecting, disconnecting and reconnecting, allowing us to move through our dance training and our life with greater flexibility and strength.
Training Includes: Floorwork, Contemporary Partnering, Performative Practices, Reflex-Response Methods, An in-depth experience wit BAIRA Repetoire & Movement Philosophy
6 Days + 1 Performance I $450
*Credit Card Payment does not complete registration. Select link below for all important registration forms.
Click here for complete BAIRA registration information.
[Credit Card payments add an additional $13.50 for box office and processing fees]
NOTE: There are no refunds. Questions? Please call the Theatre & Dance at Wayne Box Office at 313-577-2972.