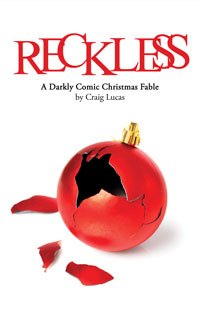 Reckless
When
Runs from Friday November 15 2019 to Sunday December 8 2019
Approximate running time: 2 hours
Venue
Performance Notes
×
About the show
At home on Christmas Eve, Rachel is informed by her husband that he has hired a hitman to kill her. She scrambles out the kitchen window, fleeing for her life, and escapes into the snowy night. She meets and joins up with Lloyd, who's changed his name to avoid alimony payments and who now lives with a paraplegic named Pootie (who also pretends to be deaf in order to get double disability). But downtrodden Rachel's luck changes when she wins $100,000 on a game show and begins a series of picaresque escapades involving numerous psychiatrists and, eventually, an ill-fated reunion with her husband. Soon, she begins to wonder whether the modern world might not be a vast conspiracy designed to systematically undermine her own increasingly shaky sanity.
LATE SEATING:There is NO LATE SEATING. Out of respect for the audience and the production, patrons arriving after the performance begins will not be admitted.
ACCESSIBILITY:The Underground at the Hilberry is accessible by stairs. If you have a mobility concern, please call the box office (313-577-2972) 24 hours in advance so we can assist you.
NOTE: There is a $2 per ticket convenience fee included in the online ticket price. There are no refunds. Tickets may be exchanged for a nominal per ticket fee. (Subscribers enjoy no fee exchanges.) To exchange our tickets, please call the Box Office (313-577-2972) at least 48 hours before your original performance.
Group Tickets
Group tickets are available for parties of 10 at a discount. Call 313-577-0852 or email groupsales@wayne.edu to reserve. You may also submit a booking request
online
for your convenience.
Return to show page