Bus Stop Thursday March 26 2020 at 7:00 PM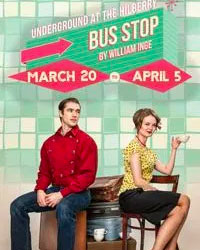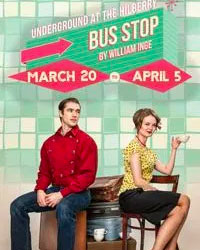 You've selected
Thursday March 26 2020 at 7:00 PM
Change Date
×
About the show
The hysterical story follows a group of bus passengers who are forced off the road due to a howling snowstorm and find themselves gathered at a cheerful roadside diner while waiting for the roads to clear. Among the travelers are Cherie, a nightclub singer on the run, Bo, a brash young cowboy who's desperate to make Cherie his bride, Carl, the intrepid bus driver, and Grace, the diner's owner who more than fancies Carl. The original Broadway production was nominated for four Tony Awards including Best Play, Best Featured Actress in a Play (Michigan's own Elaine Stritch), Best Scenic Design, and Best Director.
LATE SEATING:There is NO LATE SEATING. Out of respect for the audience and the production, patrons arriving after the performance begins will not be admitted.
ACCESSIBILITY:The Underground at the Hilberry is accessible by stairs. If you have a mobility concern, please call the box office (313-577-2972) 24 hours in advance so we can assist you.
NOTE: There is a $2 per ticket convenience fee included in the online ticket price. There are no refunds. Tickets may be exchanged for a nominal per ticket fee. (Subscribers enjoy no fee exchanges.) To exchange our tickets, please call the Box Office (313-577-2972) at least 48 hours before your original performance.
Group Tickets
Group tickets are available for parties of 10 at a discount. Call 313-577-0852 or email groupsales@wayne.edu to reserve. You may also submit a booking request
online
for your convenience.
Return to show page
Venue
Underground at the Hilberry
* * * No Late Seating * * *
4743 Cass Ave.
Detroit MI 48202