BAIRA Summer Intensive Detroit Monday July 29 2019 at 9:00 AM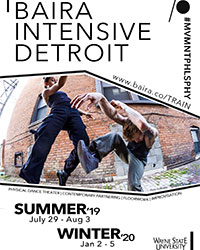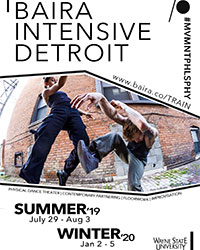 You've selected
Monday July 29 2019 at 9:00 AM
×
Shaina Branfman Baira & Bryan Strimpel Baira
BAIRA Summer Dance Intensive
July 29 - August 2, 2019
Watch the "Becoming BAIRA" trailer.
BECOMING BAIRA [ rehearsal trailer] from BAIRA | MVMNT PHLSPHY on Vimeo.
BAIRA Summer Dance Intensive is six days of rigorous training in the movement and performance practices of Shaina Branfman and Bryan Strimpel BAIRA. The Intensive is designed for serious dancers age 12 through professional adult (level I: 12-13, level II: 14-16, level III: 17+). With a focus on contemporary floor work, partnering, technique, physical conditioning, and self-awareness, BSDI offers practices for the personal and professional development of dedicated contemporary dance artists. Participants will receive an in-depth experience with BAIRA's choreographic process, learning company repertoire and performing at Wayne State University's Maggie Allesee Studio Theatre. This intensive promotes dance practice as life practice, and offers dancers the opportunity to experience how this artform can transform the way they interact with the world.
Training Includes: Floorwork, Contemporary Partnering, Performative Practices, Reflex-Response Methods, An in-depth experience wit BAIRA Repetoire & Movement Philosophy
6 Days + 1 Performance I $450
Location: Wayne State University Old Main Building / 3rd floor • 4841 Cass Ave, Detroit, MI 48201
Click here for complete BAIRA information.
NOTE: There are no refunds. Questions? Please call the Theatre & Dance at Wayne Box Office at 313-577-2972.
Venue
Allesee Dance Theatre
4841 Cass Avenue 3rd Floor
Detroit MI 48201
×
This is a general admission performance - the seats are on a first come, first serve basis when you arrive at the venue.
Doors open 1/2 hour prior to start of performance.